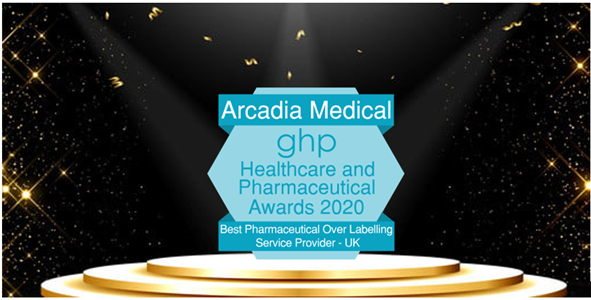 At Arcadia Medical we pride ourselves on the strong relationships we build with our customers to help improve the lives of patients. This ethos has become more important than ever during this pandemic era which has touched the lives of so many across the globe.
During these ever changing and challenging times, our aim is always to ensure our customers receive their orders on time every time especially over the last 12 months where global stocks of medicines have been in constant fluctuation.
The staff at Arcadia Medical are passionate about what they do and always strive to push the boundaries of customer service excellence to ensure patient care is optimised.
Everyone at Arcadia Medical is incredibly humbled and proud to have been awarded the Best Pharmaceutical Over Labelling Service Provider – UK, especially during these trying times. We are so pleased our customers appreciate all that we do to help service their needs and their patients.
Jason Webb (Managing Director) said, "To win an award like this is fantastic, but to receive this during these difficult times is a testament to my team. The award really highlights the excellent service we aim to deliver on a daily basis and the important role we play in supporting patient care. Thank you to all our customers and their nomination"
Link to article - https://www.ghp-news.com/issues/healthcare-pharmaceutical-awards-2020/91/#zoom=z
Back to news